2012 was the Hottest year on record
7 of the 10 Hottest summers have occurred since 2000
More than 90% of Australians experience temperatures of 36 deg C during Summer.
Beat the Heat on Your Artificial Lawn with the HydroChill Cooling System
Why Install HydroChill with your artificial lawn?
In the past, the biggest limitation of artificial lawns was the surface temperature. While artificial lawns were effective in combating drought in dry, hot climates, severe temperatures would cause the surface of the lawn to require frequent rinses with water to stay cool. Now, however, Southwest Greens' development of the HydroChill home evaporative cooling system allows you to enjoy your lawn any time of day. HydoChill can reduce the surface temperature of artificial lawns, synthetic putting greens, sports fields and pet runs by as much as 28 degrees, making artificial grass viable in even the warmest of climates. Our unique, patented cooling system can keep your family and pets comfortable outdoors even on warm days.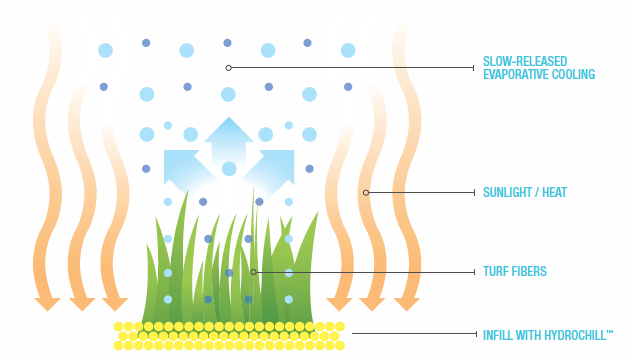 How does HydroChill keep synthetic grass cool?
The development of HydroChill spanned three years, with testing in real-world applications throughout the United States. HydroChill works by utilizing moisture to cool the surface of the lawn. Essentially, as the grass is heated by the sun, moisture stored in the HydroChill is released and the evaporative moisture removes heat, leaving the surface cool.
HydroChill utilizes moisture to provide a cooling effect. Rainfall, dew or irrigation can help keep the field cool for days, depending on local conditions. Because ambient temperature does not necessarily dictate surface temperature, areas that you would not consider as being hot can be much warmer than expected. During the summer, surfaces absorb more energy from the sun and heat up quickly. Surfaces like artificial turf benefit greatly from evaporative cooling because HydroChill is designed to work on the hottest days when the sun is directly overhead. As conditions continue to heat up around the world and artificial lawns become more popular for areas hit hardest by drought, HydroChill is the best way to combat surface heat and make your outdoor space enjoyable for everyone.
Other benefits of HydroChill
HydroChill can be incorporated into most Southwest Greens' infilled lawn systems, and can even be applied to other artificial lawns with silica sand infill systems
HydroChill has successfully lowered temperatures 16 – 28 degrees Celsius relative to a standard synthetic lawn surface
HydroChill is a non-hazardous material with no risk of dangerous polymerization or chemical reactions
No adverse health effects (eye, skin, ingestion, inhalation) expected under normal conditions
Hydration activates the synthetic lawn cooling system and a hose can be used to simulate approximately ¼ inch of rainfall in the morning
HydroChill will not affect the durability or warranty of Southwest Greens' products
HydroChill is the most impactful product for heat reduction in the history of artificial grass. If you want a cool, comfortable lawn  that feels and looks great all year long, contact us to see if HydroChill is right for you.